How to get started
Create AI-powered intelligent devices for enterprises on our smart modules. Our industry-leading 5G and WiFi6 chipsets and modules support ultra-high-performance networking experiences in enterprise environments.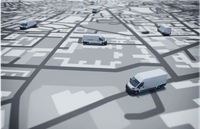 Flexible fleet management system
The smart fleet management integrates three-tier technologies in transportation, information, and communications. It consists of many functions such as vehicle surveillance, tasking management, driver management, fleet analysis, and driving safety management. The system can allow enterprises to lower and avoid risks in vehicle investment while raising commercial efficiency and productivity and reducing the overall transportation time and staffing needs.